New Roles, New Faces, and New Perspectives: Toronto Symphony Orchestra Spotlights New Musicians in Year 101
The Orchestra's 2023/24 season kicks off with musician promotions, new members, and solo turns from principal players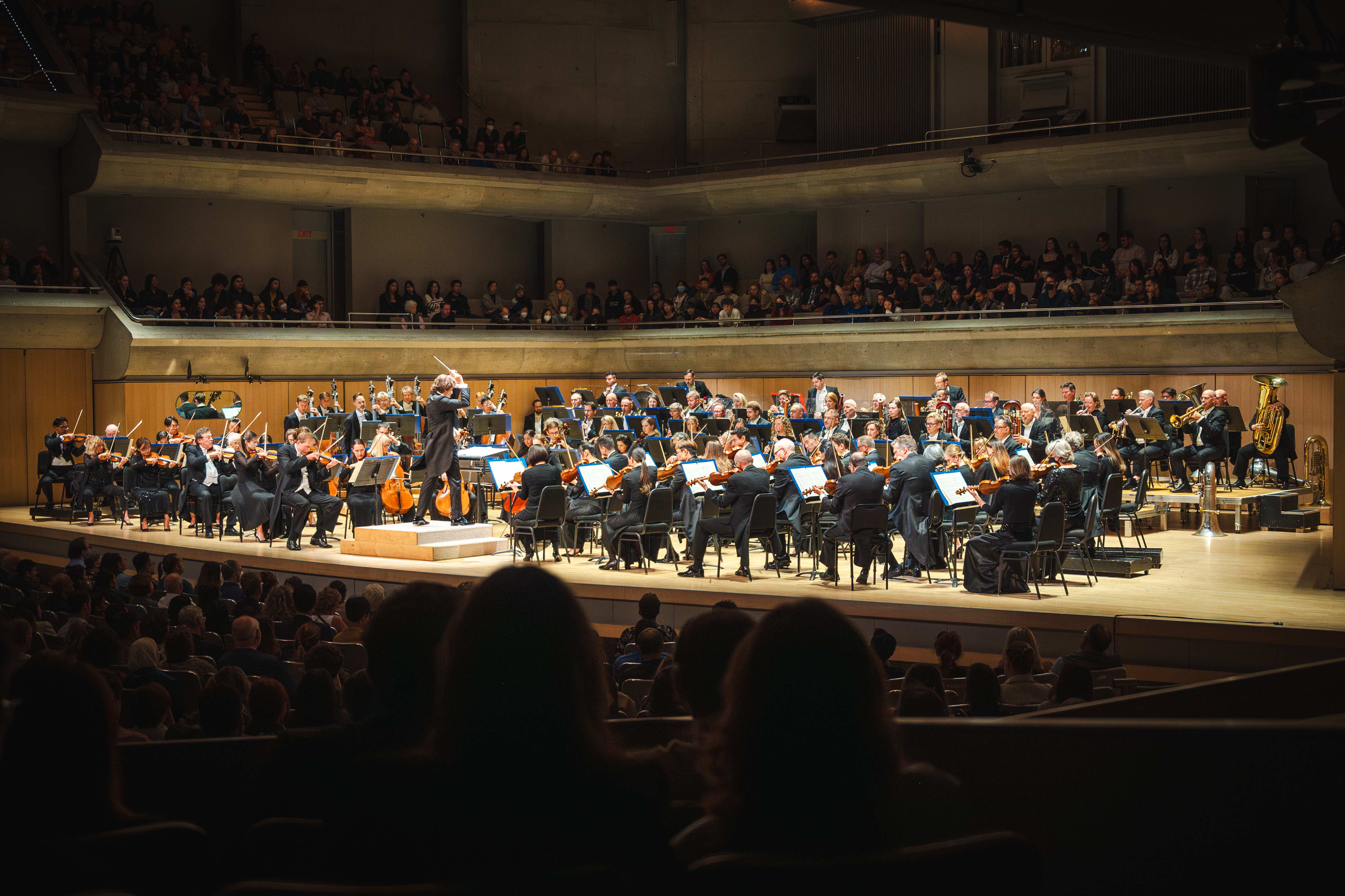 Toronto, September 21, 2023 — This week, as the musicians of the Toronto Symphony Orchestra (TSO) reunite to inaugurate their groundbreaking 2023/24 season, three are assuming new roles while seven others are taking the stage for the very first time as members. Three more, all principal players, will step into the spotlight as soloists in a series of upcoming Year 101 concerts.
"We are endeavouring to transform the concert-going experience into a shared journey of discovery, connection, and celebration of this city's vibrant and diverse communities," says TSO Chief Executive Officer

Mark Williams

. "This transformation begins with our musicians — several of whom are being promoted, welcomed, or featured this season — and I am especially excited to introduce this particular group of wonderful artists to our neighbours at this Saturday's

Symphony With Us: Open House & Community Concert

. An orchestra is a wonderful instrument, and the TSO exists for the purpose of infusing a sense of wonder into the musical life of every Torontonian."
---
New Roles
A number of promotions from within the TSO's violin section will result in a shuffling of chairs: Yolanda Bruno and Clare Semes, former tutti violins, will both assume the role of Associate Concertmaster, lending support to Concertmaster Jonathan Crow and acting as Concertmaster for numerous programs over the course of the season. Additionally, former tutti violin Luri Lee will assume the position of Assistant Principal Second Violin after winning the audition for the role earlier this year.
"This season, the artistic bar is staggeringly high," says Music Director Gustavo Gimeno. "The orchestra is on an unprecedented trajectory that runs in parallel with the pulse of Toronto — Yolanda, Clare, and Luri are exceptionally well qualified to help propel us forward as a collective. Their talent, passion, and hard work are abundantly evident, and it was my sincere pleasure to promote them to their new roles with greater responsibility and leadership, in which I am certain they will excel."
Behind the scenes, the TSO's Artistic Leadership team also welcomes Emilie LeBel to the position of Composer Advisor. Emilie succeeds her teacher Gary Kulesha, to whom the TSO is most grateful for his many years of creative guidance. RBC Affiliate Composer from 2018 to 2022, Emilie will continue to develop the TSO's commissioning and mentorship programs in her new capacity. This entails working with current RBC Affiliate Composer Alison Yun-Fei Jiang in overseeing the TSO NextGen Composers initiative and Explore the Score reading session for emerging composers in the spring.
---
New Faces
No fewer than seven impressive musicians join the Orchestra's string and brass sections this season. They are Associate Principal Second Violin Kun Yan; violins Christina (Jung Yan) Choi and Ah Young Kim; double basses Jesse Dale, Christopher Laven, and Mark Lillie; and trumpet Renata Cardoso. These gifted artists were selected from a large pool of international applicants after taking part in blind auditions. 
Get to know the TSO's new members:
Kun Yan, Associate Principal Second Violin
Kun Yan is a recent graduate of The Juilliard School, and began playing the violin at the age of 5. She holds a Master of Music degree from Juilliard and a Bachelor of Music degree from the New England Conservatory. Kun has toured with the National Youth Orchestra of China, and has collaborated with the likes of Yuja Wang and Garrick Ohlsson, performing at prestigious venues such as Carnegie Hall, Konzerthaus Berlin, and other renowned locations.
Christina (Jung Yan) Choi, Violin
Christina (Jung Yan) Choi was the Recipient of the 2015 Hnatyshyn Foundation Developing Artist Grant and gave her first concerto performance in 2006 with the Queensland Symphony. Since then, she has performed around the world in venues such as Bridgewater Hall, the Sydney Opera House, and Carnegie Hall. She has studied at renowned institutions including the Glenn Gould School, the Colburn School, and the New World Symphony, and is an alumna of the Toronto Symphony Youth Orchestra.
Ah Young Kim began violin and piano at age 4. She was accepted into the prestigious Young Jae Music Academy at Daejeon Art Center, and, at age 14, made her solo début performing Lalo's Symphonie espagnole with Daejeon Philharmonic Orchestra. She completed the Artist Diploma Program and received a bachelor's degree from the Glenn Gould School. Prior to joining the TSO, Ah Young was a section violinist at the Quebec Symphony Orchestra (2022/23).
Jesse Dale attended Booker T. Washington High School for the Performing and Visual Arts in Dallas, Texas, where he studied closely with many Dallas Symphony musicians. After two years at the New England Conservatory of Music, he graduated summa cum laude in 2021 from the University of North Texas. Jesse has also performed with many acclaimed ensembles, including the Schleswig-Holstein Festival Orchestra, the Tanglewood Music Center Orchestra, the Callithumpian Consort, and the Phoenix Orchestra of Boston.
Christopher Laven, Double Bass
Christopher Laven grew up in a musical family and began his studies at a young age while living in Houston, Texas. He received his bachelor's degree in Houston at Rice University's Shepherd School of Music, and went on to complete his master's degree in Boston at the New England Conservatory. Outside of classical music, Christopher is a music producer who works closely with Latino artist 3van, who is a close friend from high school.
Mark Lillie, a native of Boulder, Colorado, began his musical career at the age of 13. He received his Bachelor of Music degree from the Colburn Conservatory of Music, his Master of Music degree from The Juilliard School, and a Professional Performance Diploma from the Manhattan School of Music. Mark has served as Principal Bass of the Colburn and Juilliard Orchestras, Music Academy Festival Orchestra, Colorado College Summer Music Festival Orchestra, and National Repertory Orchestra. 
Renata Cardoso was born in Coimbra, Portugal. Her earliest musical interest was in percussion but shifted to trumpet when she pursued studies at Coimbra's Conservatory. She received her bachelor's degree from the Escola Superior de Música in Lisbon and completed a year of study at Rice University's Shepherd School of Music. Renata is a past participant in the Gulbenkian Orchestra's Summer Fellowship program and more recently won a prestigious Gulbenkian Foundation scholarship for international study.
---
New Perspectives: TSO Principals Take Centre Stage in Upcoming Concerts
In addition to showcasing the orchestra's collective talents, the TSO will feature three of its extraordinary principals as soloists in concerts presented over the next few months, allowing audiences to appreciate their proficiency from a new perspective. ​ 
Principal Clarinet Eric Abramovitz will be the first to take centre stage, performing the virtuosic Clarinet Concerto by Copland (October 14 & 15). Concertmaster Jonathan Crow will thereafter headline Ligeti's avant-garde Violin Concerto — marking the TSO's first-ever performance of the piece — as part of the Beethoven's Seventh program (October 25, 28 & 29). Lastly, Principal Bassoon Michael Sweeney will bring to life contemporary Canadian composer Marjan Mozetich's Bassoon Concerto, which was jointly commissioned by Michael and the Ontario Arts Council, in Tchaikovsky's Sleeping Beauty (November 29 & 30, December 1 & 3).
Your TSO Musicians in the Spotlight: Concert Details
Sat, Oct 14, 2023 at 8:00pm
Sun, Oct 15, 2023 at 3:00pm
Trevor Wilson, TSO RBC Resident Conductor
Eric Abramovitz, clarinet ​ ​ ​ ​ 
Dinuk Wijeratne: Polyphonic Lively
Vaughan Williams: Five Variants of Dives and Lazarus
Copland: Clarinet Concerto
Elgar: Variations on an Original Theme "Enigma"
Copland's jazz-influenced Clarinet Concerto channels the legendary Benny Goodman for whom it was commissioned—a showpiece of technical virtuosity performed by Toronto Symphony Orchestra Principal Clarinet Eric Abramovitz.
Wed, Oct 25, 2023 at 8:00pm
Sat, Oct 28, 2023 at 8:00pm
Sun, Oct 29, 2023 at 3:00pm (George Weston Recital Hall, Meridian Arts Centre)
Gustavo Gimeno, conductor
Jonathan Crow, violin ​ ​ ​ ​ 
Olga Neuwirth: Dreydl* (Canadian Première)
Ligeti: Violin Concerto
Tansy Davies: Plumes (North American Première)
Beethoven: Symphony No. 7 
*Oct 25 & 28 only
Toronto Symphony Orchestra Concertmaster Jonathan Crow takes on the fascinating Violin Concerto of György Ligeti in honour of the 100th anniversary of the composer's birth. The work explores the outer limits of instrumental sound, combined with a hint of humour and the folk tunes of Ligeti's native Transylvania.
Wed, Nov 29, 2023 at 8:00pm
Thu, Nov 30, 2023 at 8:00pm
Fri, Dec 1, 2023 at 7:30pm
Sun, Dec 3, 2023 at 3:00pm
Maxim Emelyanychev, conductor
Michael Sweeney, bassoon ​ ​ ​ ​ 
Humperdinck: Prelude to Hansel and Gretel
Marjan Mozetich: Bassoon Concerto
Tchaikovsky/comp. Emelyanychev: Suite from The Sleeping Beauty
Toronto Symphony Orchestra Principal Bassoon Michael Sweeney performs the hauntingly beautiful Bassoon Concerto by Italian-Canadian composer Marjan Mozetich. In 2003, Sweeney commissioned and premièred the intriguing soundscape, which merges new concepts with the familiar.
*Concerts at Roy Thomson Hall unless otherwise specified
---
About the Toronto Symphony Orchestra
For over a century, the Toronto Symphony Orchestra (TSO) has played a fundamental role in shaping and celebrating Canadian culture. Now in our 101st year, the TSO's commitment to musical excellence and ability to spark connection remain as strong as ever. With a storied history of acclaimed concerts and recordings, Canadian and international tours, and impactful community partnerships, we are dedicated to engaging and enriching local and national communities through vibrant musical experiences. Music Director Gustavo Gimeno brings an expansive artistic vision, intellectual curiosity, and sense of adventure to programming the 93-musician Orchestra that serves Toronto—one of the world's most diverse cities. As a group of artists, teachers, and advocates who share the belief that music has the power to heal, inspire, and connect people from all walks of life, we engage audiences young and old through an array of education, community-access, and health-and-wellness initiatives. The 2023/24 season marks the 50th anniversary of the TSO-affiliated Toronto Symphony Youth Orchestra—a tuition-free training program dedicated to cultivating the next generation of Canadian artists. Join us for a concert at Roy Thomson Hall, or experience the TSO in your neighbourhood. Visit TSO.CA or Newsroom.TSO.CA.
---
The TSO relies on the generosity of thousands of donors and partners who provide a critical base of funding that makes possible all of the TSO's music-making on stage and in the community. 
The TSO Affiliate Composer and Resident Conductor positions are generously supported by the RBC Emerging Artists Program.
The TSO acknowledges Mary Beck as the Musicians' Patron in perpetuity for her generous and longstanding support.
The appearances of Gustavo Gimeno are generously supported by Susan Brenninkmeyer in memory of Hans Brenninkmeyer.
The TSO Season Presenting Sponsor is BMO Financial Group.
The TSO is grateful for the support of the Toronto Symphony Foundation and all levels of government, including the Canada Council for the Arts, the Ontario Arts Council, the Toronto Arts Council, and the Government of Canada.
---
Media Contact
For media requests, please contact:
Tat Read, Senior Director, Communications
Toronto Symphony Orchestra
Visit Newsroom.TSO.CA