TSO Invites Youth and Families to Symphony With Us at Year 101 Young People's Concerts and Symphony Storytime
Young People's Concerts Series begins November 19 at Roy Thomson Hall with Saint-Georges' Sword & Bow; Symphony Storytime, Symphony Storytime, a PD Day partnership with Toronto Public Library, starts November 17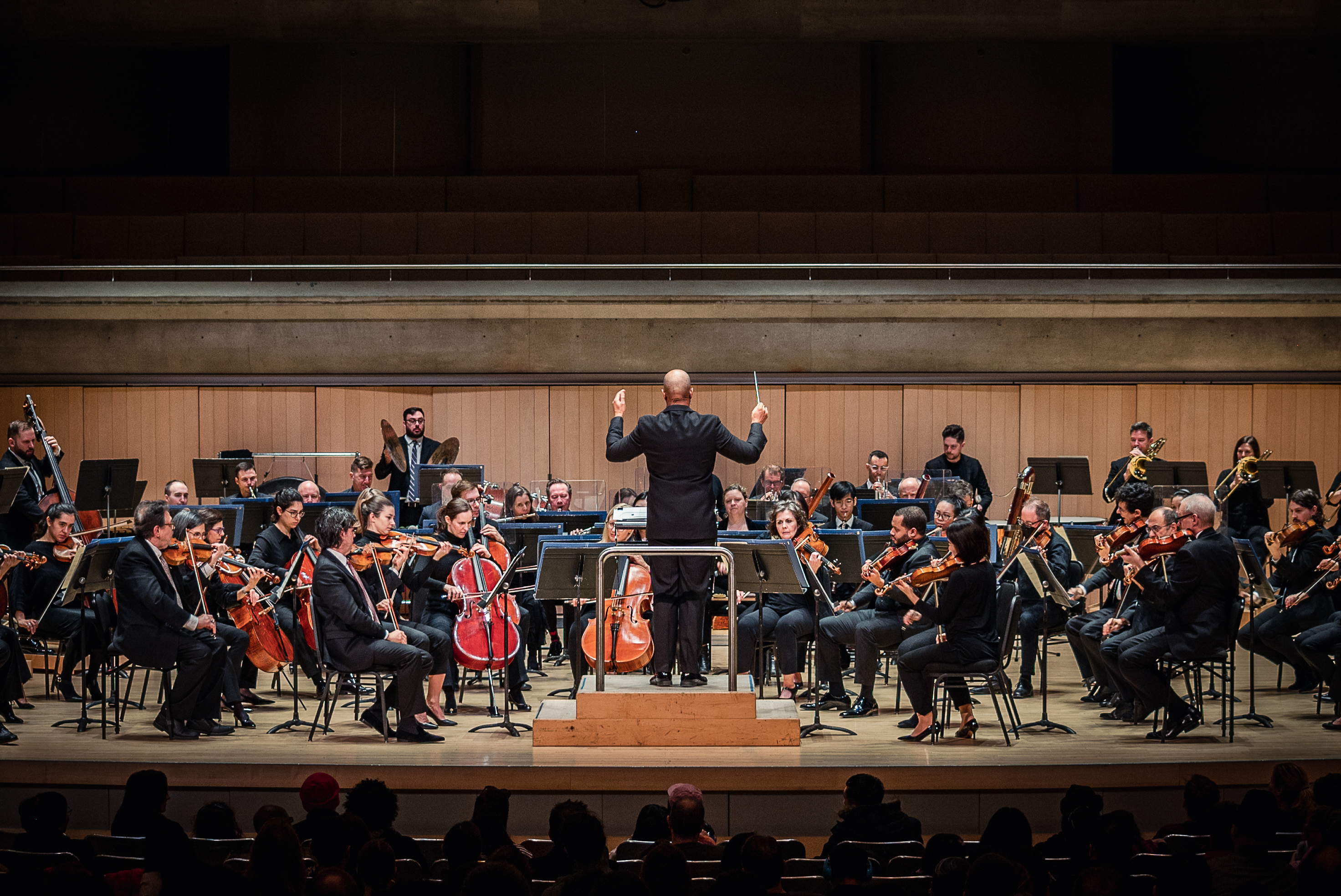 Toronto, November 14, 2023—The Toronto Symphony Orchestra (TSO) kicks off its 2023/24 Young People's Concerts (YPC) Series at Roy Thomson Hall on November 19 with the first of four diverse programs designed to introduce young listeners to classical music through fun and interactive experiences. Families can also connect with TSO musicians outside the concert hall as part of Symphony Storytime, a new partnership with Toronto Public Library (TPL) — held on select Professional Development (PD) Days throughout the season, beginning on November 17 — that combines storytelling and musical performance in engaging ways. 
Behind all of this programming, and leading the majority of the YPC Series himself, is Barrett Principal Education Conductor & Community Ambassador Daniel Bartholomew-Poyser, whose contract the TSO was recently pleased to extend through the 2025/26 season.
"The TSO occupies a special role in the community," says Daniel. "It exists to connect with others through shared musical experiences—and a core part of that involves kindling a passion for orchestral music in the next generation. This season's fantastic programs for children and youth vary in focus and format, but they all go beyond the music to dive into history, touch on social issues, and challenge young minds. It's my sincere honour to continue to act as a guide on this vital and transformative cultural journey."
2023/24 Young People's Concerts
The TSO's Year 101 YPC Series invites young patrons and their families to embark on four one-hour musical adventures, held on Sunday afternoons. These enthralling programs include the Canadian Première of Classical Kids LIVE!'s Saint-Georges' Sword & Bow, highlighting the life and work of Joseph Bologne, Chevalier de Saint-Georges, an 18th-century Black composer, conductor, and fencer; SingSong, a sensational sing-along with tunes from around the world featuring flautist Yelin Youn, winner of the 2022/23 Toronto Symphony Youth Orchestra Concerto Competition; Bhangra & Beyond, a fun-filled fusion of sounds from Southeast Asia, and the Indian subcontinent, brought to life by the dancers of Maritime Bhangra; and Dan Brown's Wild Symphony, a musical menagerie of new animal friends, conducted by RBC Resident Conductor Trevor Wilson, with story and music created by the author of The Da Vinci Code.
SingSong and Bhangra & Beyond will also be offered as School Concerts — which the TSO develops in consultation with Ontario educators and presents to approximately 40,000 students and their teachers every year — and Relaxed Performances designed to be more welcoming to the neurodiverse and disabled communities, and patrons who simply prefer a more relaxed concert experience.
Information & Tickets
Artists:
Daniel Bartholomew-Poyser, Conductor
Classical Kids LIVE! Artists
Dates:
Sun, Nov. 19, 2023 -1:30pm - Roy Thomson Hall
Sun, Nov. 19, 2023 - 4:00pm - Roy Thomson Hall
Artists:
Trevor Wilson, Conductor
Yelin Youn, Flute (2022/23 TSYO Concerto Competition Winner)
Dates:
Sun, Feb. 11, 2022 -1:30pm - Roy Thomson Hall
Sun, Feb. 11, 2022 - 4:00pm - Roy Thomson Hall
Artist:
Trevor Wilson, Host & Conductor
Dates:
Sun, Mar. 3, 2024 -1:30pm - Roy Thomson Hall
Sun, Mar. 3, 2024 - 4:00pm - Roy Thomson Hall
Artists:
Daniel Bartholomew-Poyser, Host & Conductor
Maritime Bhangra - Dancers
Dates:
Sun, Apr 14, 2024 -1:30pm - Roy Thomson Hall
Sun, Apr 14, 2024 - 4:00pm - Roy Thomson Hall
Symphony Storytime with Toronto Public Library
Symphony Storytime links literacy and music education through captivating, interactive 45-minute experiences for kids and families. Each session features a programmer from TPL partnering with a different member of the orchestra to read and provide musical accompaniment to two books written for children ages 4–9. The TSO musician will also educate listeners about their instruments, answer questions, and interact with attendees at the conclusion of the session. The program will be held on four PA Days throughout the school year at different TPL branches in the city, engaging community members in their own neighbourhoods and strengthening their bonds with the TSO and its musicians.
Details
Admission: Free
Location: Various Toronto Public Library branches
Dates: 
November 17, 2023 – Flemingdon Park, 29 St. Dennis Drive, Toronto, ON, M3C 3J3
December 8, 2023 – Jane/Sheppard, 1906 Sheppard Avenue West, Toronto, ON, M3L 1Y7
January 19, 2024 – Parkdale, 1303 Queen Street West, Toronto, ON, M6K 1L6
February 16, 2024 – Morningside, 4279 Lawrence Avenue East, Toronto, ON, M1E 2S8
About Daniel Bartholomew-Poyser
A passionate communicator, Daniel brings clarity and meaning to the concert hall, fostering deep connections between audiences and performers. He made his TSO début in April 2019 leading Let's Dance, a dynamic program presented as a Young People's Concert, a School Concert, and the organization's first-ever Relaxed Performance. In the 2020/21 season, he was appointed Barrett Principal Education Conductor & Community Ambassador of the TSO for a three-year term. His contract was recently renewed for another three years, extending his tenure through the 2025/26 season.
In his role, Daniel conducts at least two weeks of School Concerts and Young People's Concerts per year in addition to the TSO's Relaxed Performances, community concerts, and other special programs. Recent highlights include the all-ages performance of Reggae Roots that marked the TSO's début in Brampton, and Thorgy Thor and the Thorchestra, an official Pride Toronto event featuring the TSO's first drag headliner, the "Queen of Classical Music" herself from RuPaul's Drag Race.
Concurrent to his position with the TSO, Daniel is the Resident Conductor of Engagement & Education of the San Francisco Symphony, Artist-in-Residence & Community Ambassador of Symphony Nova Scotia, and Principal Youth Conductor & Artistic Partner of the National Arts Centre Orchestra. He hosts the CBC's weekly radio show Centre Stage, and is the subject of the multi-award-winning CBC documentary Disruptor Conductor, focusing on his efforts to extend the boundaries of the orchestral-music world through concerts for neurodiverse, incarcerated, African diaspora, and LGBTQ2S+ populations.
About the Toronto Symphony Orchestra
For over a century, the Toronto Symphony Orchestra (TSO) has played a fundamental role in shaping and celebrating Canadian culture. Now in our 101st year, the TSO's commitment to musical excellence and ability to spark connection remain as strong as ever. With a storied history of acclaimed concerts and recordings, Canadian and international tours, and impactful community partnerships, we are dedicated to engaging and enriching local and national communities through vibrant musical experiences. Music Director Gustavo Gimeno brings an expansive artistic vision, intellectual curiosity, and sense of adventure to programming the 93-musician Orchestra that serves Toronto—one of the world's most diverse cities. As a group of artists, teachers, and advocates who share the belief that music has the power to heal, inspire, and connect people from all walks of life, we engage audiences young and old through an array of education, community-access, and health-and-wellness initiatives. The 2023/24 season marks the 50th anniversary of the TSO-affiliated Toronto Symphony Youth Orchestra—a tuition-free training program dedicated to cultivating the next generation of Canadian artists. Join us for a concert at Roy Thomson Hall, or experience the TSO in your neighbourhood. Visit TSO.CA or Newsroom.TSO.CA.
---
The TSO acknowledges Mary Beck as the Musicians' Patron in perpetuity for her generous and longstanding support.
The TSO Season Presenting Sponsor is BMO Financial Group.
Gustavo Gimeno's appearances are generously supported by Susan Brenninkmeyer, in memory of Hans Brenninkmeyer. 
The TSO's Education and Community Engagement programs are generously supported by Francine and Bob Barrett. 
TSOUND Connections is generously supported by TD Bank Group through the TD Ready Commitment and the George C. Hunt Family Foundation.
The TSO is grateful for the support of the Toronto Symphony Foundation and all levels of government, including the Canada Council for the Arts, the Ontario Arts Council, the Toronto Arts Council, the Government of Canada, and the Government of Ontario.
Instagram: instagram.com/TorontoSymphony
Facebook: facebook.com/TorontoSymphonyOrchestra
YouTube: youtube.com/TorontoSymphony
Media Contact
For media requests, please contact:
Tat Read, Senior Director, Communications
Toronto Symphony Orchestra
Visit Newsroom.TSO.CA