TSO Announces First-of-Its-Kind Collaboration: Be Major, a Symphony of Flavour Orchestrated by Toronto's Own Ruru Baked
Toronto Symphony Orchestra Marks Centennial Season with Celebratory Limited-Release Ice Cream: Be Major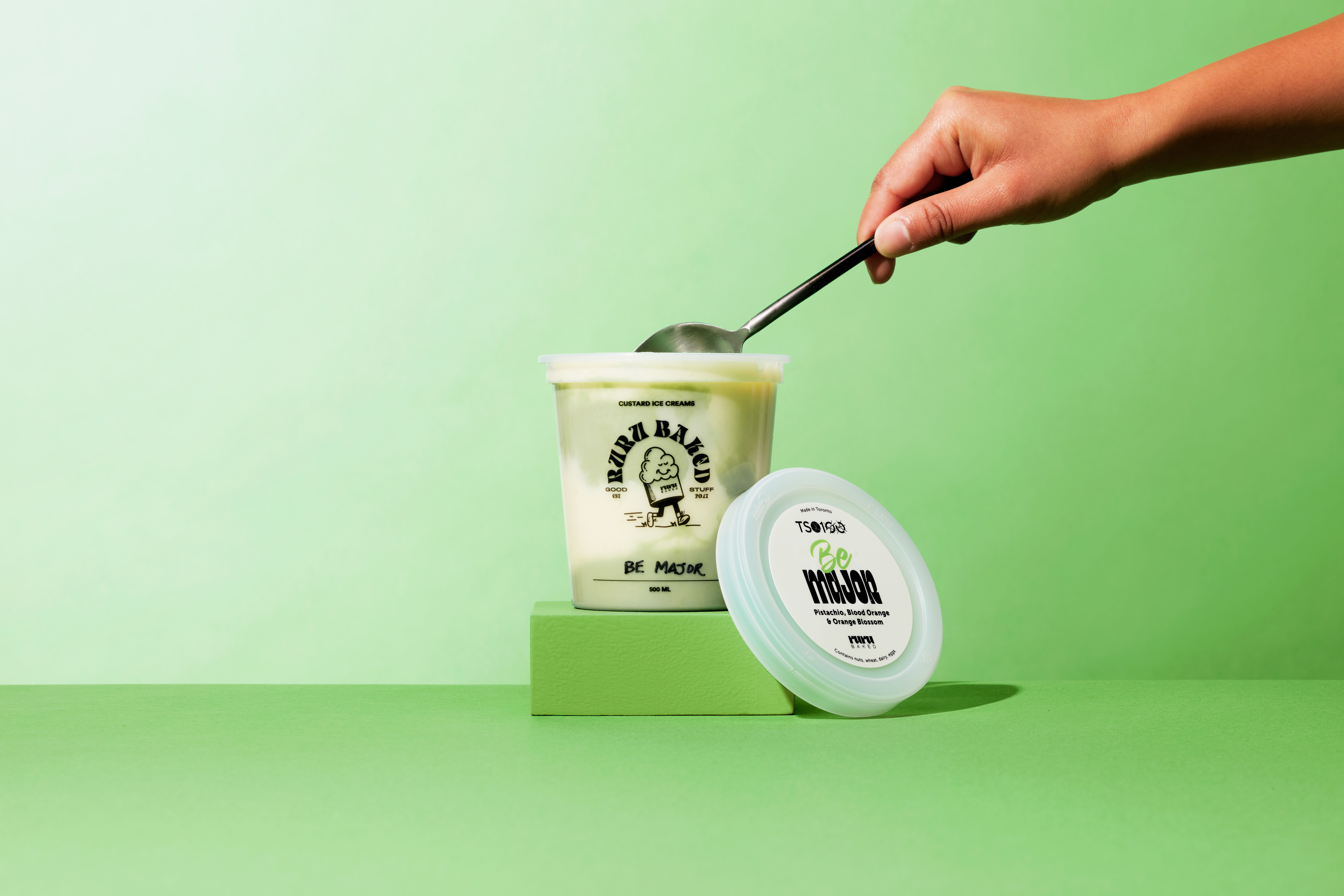 The Toronto Symphony Orchestra (TSO) is thrilled to announce Be Major: a pistachio, blood orange, and orange blossom ice cream, specially crafted to celebrate 100 years of the TSO. A century into its life as Toronto's Orchestra, the TSO plans to celebrate the artistry that exists in every corner of the city it calls home—including our first-ever edible collaboration, with Ruru Baked, a small-batch custard ice cream destination in Toronto's west end. 
Be Major is more than just a new way to enjoy the TSO. It's a recommitment to curiosity and collaboration, and just one of many ways the TSO plans to celebrate its Centennial. TSO Music Director Gustavo Gimeno captured the celebratory nature of this Toronto-born collaboration with the observation that,
"there are bridges between arts, sports, food—organic, non-forced connections," and that, "the universality of craftsmanship and the interconnectedness of it is an exciting space to play in and certainly a fun way to introduce the Symphony to new audiences." 
Luanne Ronquillo, Ruru Baked's ice cream ingénue, worked closely with Maestro Gimeno to orchestrate a harmony of contrasting flavours that reflects the Orchestra's rich repertoire and diverse artistic programing. The two made a logical pair, Ronquillo herself being a fan of the TSO and an erstwhile member of TSOUNDCHECK, a discounted ticket program for ages 15–35,
"I appreciate what goes into making and performing music," she said. "Each musician in the Orchestra, from the triangle to the trumpet, playing a part in the overall effect of each piece—it's exhilarating to witness it all come together."
Much like the TSO's programmatic interplay between time-honoured masterworks and the new work of living composers, Be Major starts with an Italian classic—pistachio ice cream—and introduces hints of bright and citrusy blood orange and fragrant orange blossom. The flavour combination Ronquillo helped the TSO dream up is classic and contemporary, established but daring, in keeping with the institution it celebrates—and happens to be Ruru Baked's first foray with pistachio.
Be Major made its début at TSO100: Open House & Free Concert on Saturday, September 24, with hundreds of new symphony-goers and seasoned patrons enjoying free scoops. Ice cream and symphony aficionados will find Be Major for sale at Ruru Baked (659 Lansdowne Ave.) until October 21.
The Scoop: Experience TSOUNDCHECK—Ticket Program for Ages 15–35
Symphony-goers can mix and match their favourite orchestral flavours—Masterworks, Pops, or a combination—by purchasing a TSOUNDCHECK 4-pack. If they want to attend more than four concerts, they'll continue to save with TSOUNDCHECK pricing or save 20% off regular single-ticket prices depending on the concert, as a benefit of subscribing (some restrictions apply), and if they need to exchange their tickets for any reason, there's no fee to do so. TSOUNDCHECK also offers discounted single tickets for non-subscriber members, which typically go on sale one to two weeks prior to each applicable performance—but please note that availability isn't guaranteed. Visit TSO.CA/TSOUNDCHECK for more information.
TSO100: A Historic Season
This 2022/23 season, the Toronto Symphony Orchestra continues to celebrate 100 years of music-making and cultural stewardship, paying homage to the Orchestra's illustrious past, while ushering in a dynamic future that's reflective of the vibrant and diverse community it serves. Symphony-goers will celebrate all season long with Centennial commissions, marquee events—such as Celebrate 100: A Gala Celebration with Yo-Yo Ma and a one-night-only Return to Massey Hall concert—an incredible lineup of world-renowned guest artists, and the silver-screen-tribute Pops concert 100 Years of Epic Film Scores. The banner year will also see the Orchestra embark on their first tour with TSO Music Director Gustavo Gimeno, including a concert at Ottawa's National Arts Centre, a return visit to Carnegie Hall, and the Orchestra's début at Chicago's Symphony Center.
---
New to the Symphony? TSO Regular-Priced Tickets 101 
For new symphony-goers who don't have a subscription package, regular-priced single tickets can be purchased at TSO.CA or by contacting TSO Patron Services at 416.598.3375, Mon–Fri, 9:30am–5:00pm. Below is a list of the different types of TSO concert series and 2022/23 single-ticket pricing information:*
Masterworks—multi-faceted programs featuring treasured classics—regular-priced tickets from $29 to $157
Pops—a collection of concerts that delves into popular culture and music from film to Motown to holiday hits—regular-priced tickets from $41 to $132
Films in Concert—blockbuster films accompanied by the TSO's live orchestra—pricing ranges per film, regular-priced tickets from $49 to $139
Young People's Concerts—a family-friendly concert series to inspire a love of music—regular-priced tickets from $23 to $37
Relaxed Performances—concerts designed to be welcoming of neurodiverse audiences—regular-priced tickets $17
TSOUNDCHECK—highly discounted tickets for people ages 15 to 35; for more information, visit: https://www.tso.ca/concerts-and-events/ticket-information/tsoundcheck/ 
To score the best rates (and benefits like easy ticket exchanges), ticket subscriptions are available by series type, and/or through various mix-and-match Compose Your Own subscription packages. TSOUNDCHECK packages are part of a highly discounted ticket program for people ages 15 to 35. Discounts vary, and when combined with early-bird pricing, can top 35% off regular-priced tickets. Visit https://www.tso.ca/concerts-and-events/subscriptions/ for more information.
 *Ticket prices are subject to change. Single-ticket pricing does not include $6/per-ticket service charge. TSO subscribers are not subject to service charges or exchange fees on subscriber-priced tickets.
---
About Ruru Baked
Ruru Baked makes small-batch custard ice creams and treats in Toronto, creating fun new flavours inspired by fond memories and experiences. The business started as a small pop-up, became a happy pandemic success story, and now has a bricks-and-mortar location in the community of Bloordale. Ruru Baked has had the pleasure of collaborating with brands and community organizations such as The Kickback, Nike, Adidas, Reebok, Levi's, Patchwork Collective, Soho House, Superette, Toronto Symphony Orchestra, and many more. Their hope is that people have as much fun eating their ice cream and treats as they do making them. 
About the TSO
One of Canada's most respected arts organizations, the Toronto Symphony Orchestra (TSO) is celebrating its centennial season in 2022/23, and has played a vital role in the city's dynamic cultural life for 100 years. Music Director Gustavo Gimeno brings an expansive artistic vision, intellectual curiosity, and sense of adventure to programming the 93-musician Orchestra. The TSO is committed to serving local and national communities through vibrant performances, extensive educational activities, and impactful community relationships. It has a notable recording and broadcast history and has been celebrated internationally during its many tours. The TSO remains synonymous with musical versatility and growth, and artistic distinction.
The TSO acknowledges Mary Beck as the Musicians' Patron in perpetuity for her generous and longstanding support.
The TSO Season Presenting Sponsor is BMO Financial Group.
Gustavo Gimeno's appearances are generously supported by Susan Brenninkmeyer, in memory of Hans Brenninkmeyer.
The TSO is grateful for the support of the Toronto Symphony Foundation and all levels of government, including the Canada Council for the Arts, the Ontario Arts Council, the Toronto Arts Council, the Government of Canada, and the Government of Ontario.
Media Contact
For media requests or to be added to photo call/distribution lists, please contact:
Tat Read, Senior Director, Communications
Toronto Symphony Orchestra