Toronto Symphony Orchestra Débuts #AtTheRose Brampton
All-ages concert Reggae Roots will be led by Barrett Principal Education Conductor & Community Ambassador Daniel Bartholomew-Poyser and feature vocalist Jah'Mila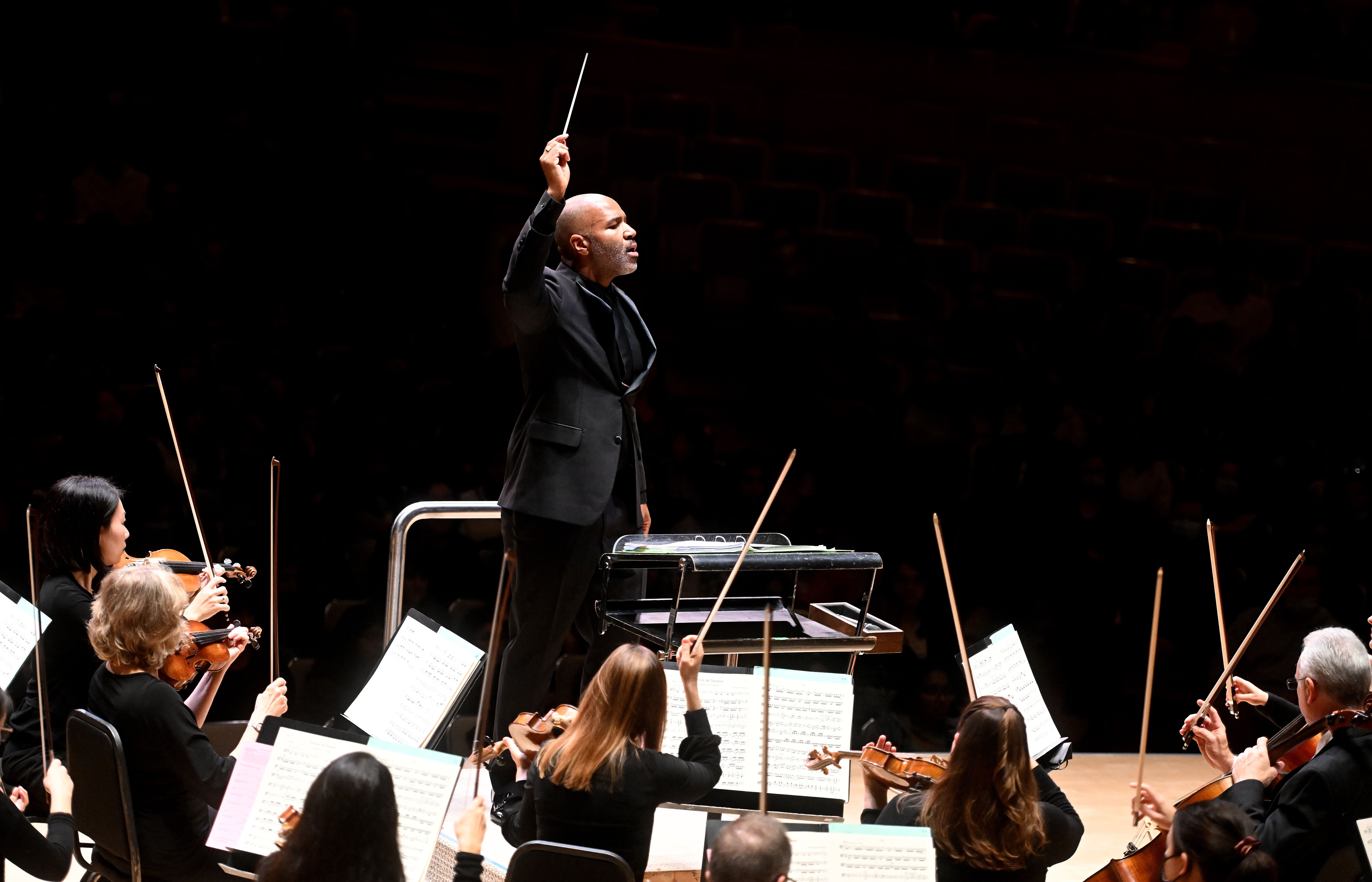 As part of its commitment to engage meaningfully with communities in the Greater Toronto Area, the Toronto Symphony Orchestra (TSO) will give its first-ever performance at celebrated venue The Rose Brampton on Saturday, April 15, 2023, at 2:00pm. The all-ages concert program, entitled Reggae Roots, will be led by TSO Barrett Principal Education Conductor & Community Ambassador Daniel Bartholomew-Poyser and feature Jamaican-born, Halifax-based vocalist Jah'Mila. As part of this collaboration, TSO musicians will also engage with members of The Rose's youth orchestra—the Rosebuds—in music education and talent-development activities. 
Reggae Roots, conceived by Daniel Bartholomew-Poyser as a tribute to his Jamaican and Trinidadian roots, is a concert for both young people and adults. Seven performances of the original program will be presented at Roy Thomson Hall between April 11 and 16 (four School Concerts, two Young People's Concerts, and one Relaxed Performance for neurodiverse audiences). The special performance at The Rose Brampton will appeal to patrons of every age. Reflecting on the social, cultural, and spiritual importance of Reggae, one of Jamaica's most famous exports, the concert invites attendees to explore the evolution of the genre, and discover the people, sounds, and stories of the movement that grew to influence music around the globe.
The City of Brampton, Toronto's northwest neighbour, is the fastest growing of Canada's largest 25 cities. More than half its population was born outside of Canada, and its citizenry comprises 250 cultures and speaks 115 languages—making it the ideal location for this concert celebrating international musical influences. Bartholomew-Poyser's personal connection to the city also contributed to its selection.
"Ever since moving to Ontario from Alberta, I have had increasingly strong ties to Brampton through my family, who have lived there for many years," he said. "As a result, I am proud to connect my work at the Toronto Symphony Orchestra with the many different communities that form the vibrant city that is Brampton." 
As one of the finest performing-arts centres in the nation, The Rose Brampton is the natural choice of venue for this TSO performance. Built between 2003 and 2006 as part of a revitalization of Brampton's downtown core to meet the cultural needs of the rapidly growing municipality, its programming is heralded for its innovation and diversity, attracting audiences that mirror the youth and dynamism of the city.
The Rose Brampton's Executive Artistic Director, Steven Schipper, said: We're honoured to welcome the TSO to Brampton, home of The Rose Orchestra's Youth Orchestra, the Rosebuds. The TSO's sensational presentation of Reggae Roots Young People's Concert is a perfect way to entertain our audience and also raise awareness of orchestral opportunities in Brampton."
The Rose's efforts closely align with the TSO's commitment to diversity, equity, and inclusion—specifically, seeking to serve broad and diverse communities by sharing meaningful artistic experiences that can be enjoyed by all and that foster social inclusion and societal well-being.
"As the Toronto Symphony Orchestra concludes its Centennial season and anticipates its 101st year and beyond, we are grateful for the invitation to The Rose and for the opportunity to reintroduce ourselves to the wonderful people of Brampton," said Mark Williams, TSO Chief Executive Officer. "Presenting this concert, at this venue, in this city, perfectly represents everything the Toronto Symphony Orchestra is and seeks to be—a cultural mirror in which all members of all communities can see themselves reflected. This is music for everyone, and we want to ensure that everyone can experience it."
Event Details: Reggae Roots at The Rose Brampton
Saturday, April 15, 2023 at The Rose Brampton (1 Theatre Ln, Brampton, ON ​ L6V 0A3)
1:00pm—Lobby doors open
1:15pm to 1:45pm—Pre-concert hand-drumming performance and Caribbean snacks by Pepper Shack in the lobby
2:00—Concert (60 mins)
Daniel Bartholomew-Poyser, conductor
Jah'Mila, vocalist
Tickets: Youth & Students—$15, General Admission—$20
Tickets may be purchased on The Rose Brampton website: tickets.brampton.ca
This concert joins the TSO's existing slate of education, and community-access and wellness initiatives intended to reach more age groups, people with different abilities, and diverse communities in the GTA. These include open houses and free concerts at the TSO's home, Roy Thomson Hall; Relaxed Performances designed to be more welcoming for neurodiverse patrons, including those on the autism spectrum, and those with sensory and communication disorders, ADHD, and dementia; Art of Healing, a partnership with the Centre for Addiction and Mental Health that supports First Nations, Inuit, and Métis patients through musical storytelling and composition; TSOUND Connections, which uses music and technology to connect TSO musicians with seniors in care to reduce social isolation and support well-being; and, in partnership with the Toronto Public Library, Symphony Storytime, featuring TSO musicians performing live alongside the reading of children's stories, expanding access for families and children to literacy and music education.
---
About the TSO
One of Canada's most respected arts organizations, the Toronto Symphony Orchestra (TSO) is celebrating its Centennial in 2022/23, and has played a vital role in the city's dynamic cultural life for 100 years. Music Director Gustavo Gimeno brings an expansive artistic vision, intellectual curiosity, and sense of adventure to programming the 93-musician Orchestra. The TSO is committed to serving local and national communities through vibrant performances, extensive educational activities, and impactful community relationships. It has a notable recording and broadcast history and has been celebrated internationally during its many tours. The TSO remains synonymous with musical versatility and growth, and artistic distinction.
The TSO relies on the generosity of thousands of donors and partners who provide a critical base of funding that makes possible all of the TSO's music-making on stage and in the community, including this partnership with The Rose Brampton. 
The TSO acknowledges Mary Beck as the Musicians' Patron in perpetuity for her generous and longstanding support.
The TSO's Education and Community Engagement programs are generously supported by Francine and Bob Barrett.
The TSO Season Presenting Sponsor is BMO Financial Group.
The TSO is grateful for the support of the Toronto Symphony Foundation and all levels of government, including the Canada Council for the Arts, the Ontario Arts Council, the Toronto Arts Council, the Government of Canada, and the Government of Ontario.
TSOUND Connections is generously supported by TD Bank Group through the TD Ready Commitment and the George C. Hunt Family Foundation.
About Performing Arts Brampton
Our vision is to build an inspiring performing arts community that reflects the spirit and diversity of Brampton. Operating four outstanding venues, we support over 550 presentations throughout the city each year. Together with local artists and audiences, we believe performing arts are essential to everyday life. 
About Jah'Mila
Jah'Mila is a singer/songwriter residing in Halifax, Nova Scotia. Inspired by her deep love for music and her talent for singing, she has been the beacon for reggae music in Atlantic Canada. Her sound captures the electrifying energy of authentic roots reggae music, interlaced with soul, Jazz and R&B. Equipped with over a decade of reggae industry experience, and also with the amazing support of her musical team, she is poised and prepared to stand in the center of every stage. Jah'Mila is passionate about matters of social equity and tries her best to use her art as an instrument of advocacy for those systematically oppressed and marginalized. She believes that a brighter future is possible through community, inclusion and support for the arts.
---
Media Contact
For media requests please contact:
Toronto Symphony Orchestra
Tat Read, Senior Director, Communications
Performing Arts Brampton
Carrie Libling, Marketing Coordinator