Toronto Symphony Orchestra and Harmonia Mundi Announce New Recording Partnership
Agreement marks the label's first major project with a North American orchestra; Turangalîla-Symphonie to be inaugural of new multi-disc agreement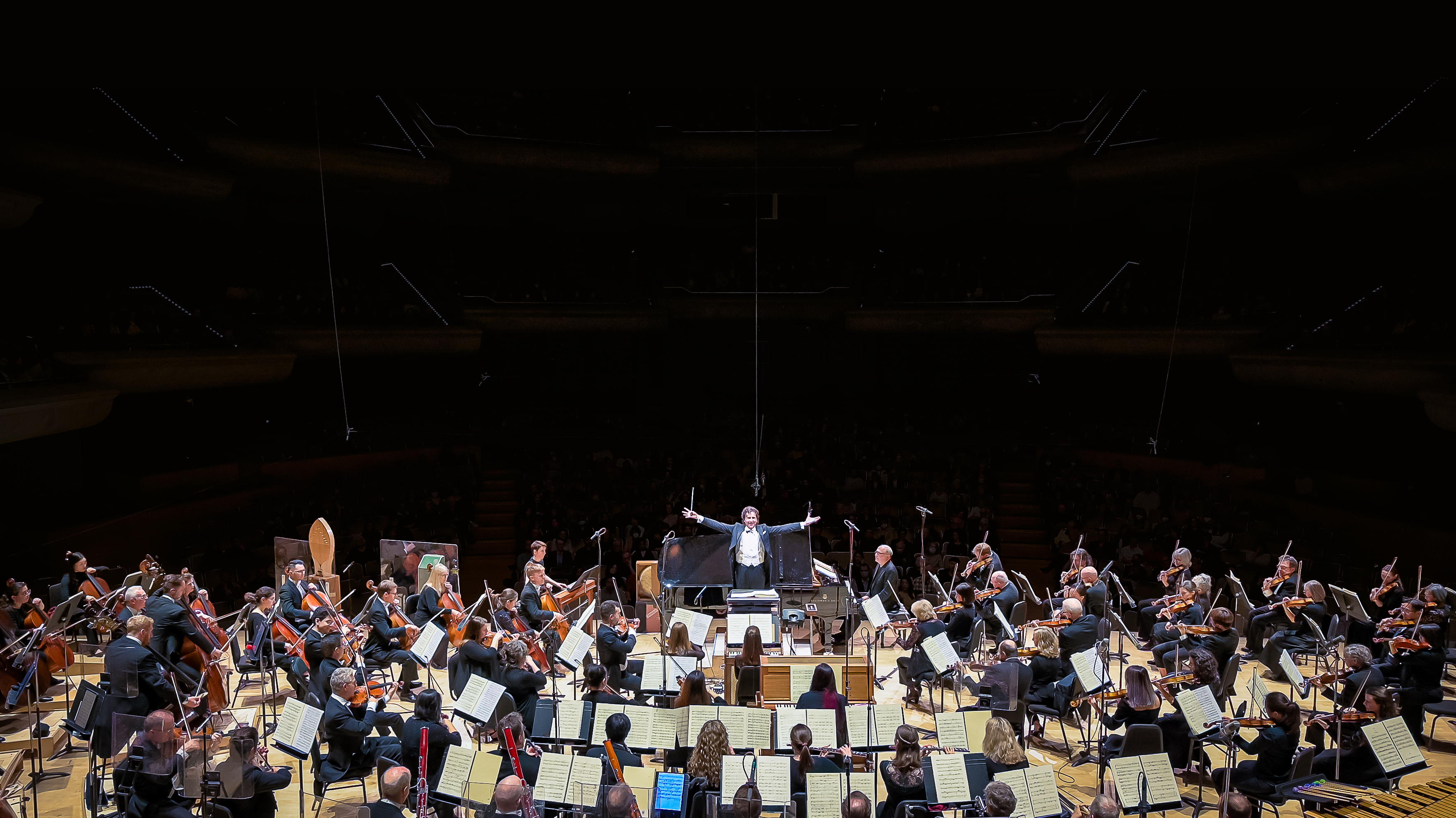 Toronto, November 16, 2023—Today, the Toronto Symphony Orchestra (TSO), and renowned independent record label Harmonia Mundi, are thrilled to announce a long-term recording partnership. This agreement represents the European label's first major project with a North American orchestra and comprises the release of multiple recordings — beginning with Olivier Messiaen's Turangalîla-Symphonie on February 2, 2024 — building on the TSO's expansive and award-winning discography. The two subsequent recordings that will be released through this partnership will feature Stravinsky's ballet Pulcinella (along with a work by Canadian composer Kelly-Marie Murphy) and Bartók's The Miraculous Mandarin (along with a work by Canadian composer Emilie LeBel), to be recorded this season and next, respectively. These recordings are a testament to Music Director Gustavo Gimeno's signature combination of new and old works for dynamic programming.
"I deeply enjoy my long-standing relationship with Harmonia Mundi, and am very inspired by this opportunity to bring that relationship to Toronto," said Gustavo Gimeno. ​ "So when I was asked to select a work from the entirety of the repertoire, for my first recording with the Toronto Symphony Orchestra, my decision was immediate. Not only is Olivier Messiaen's Turangalîla-Symphonie historically significant to the TSO — as TSO Music Director Seiji Ozawa recorded it with the orchestra in 1968 — but it also embodies the sense of forward-looking intrepidity that characterizes both the orchestra and the label. This new artistic alliance is wonderfully apt, and I am thrilled to be a part of it.
"The Toronto Symphony Orchestra is very excited to be the first North American orchestra to partner with Harmonia Mundi. The inaugural recording of this partnership — the Turangalîla-Symphonie, among the greatest compositions of the 20th century — reflects the ebullient energy of today's Toronto Symphony under the exceptional musical leadership of Gustavo Gimeno, while paying homage to our storied history," said Beck Family CEO, Mark Williams.
Captured at Roy Thomson Hall during the TSO's 100th-anniversary season, Turangalîla-Symphonie pays tribute to the orchestra's iconic, GRAMMY®-nominated 1968 RCA recording of the same piece, and marks Gustavo Gimeno's inaugural recording as Music Director. The recording also features soloists Marc-André Hamelin (piano) and Nathalie Forget (ondes Martenot). ​ 
Turangalîla-Symphonie recording launches February 2, 2024. Watch the trailer. Visit turangalila.tso.ca for more information.
Founded in 1958 and based in Arles, France, Harmonia Mundi has produced many acclaimed recordings and developed a reputation for aligning itself with artists who possess a keen spirit of adventure and passion for excellence. Named international "label of the year" numerous times by Gramophone, Record Geijutsu, and Classica magazine, as well as by the International Classical Music Awards, it has raised the profiles of such esteemed musicians as Isabelle Faust, Emmanuelle Bertrand, Alexander Melnikov, and Jean-Guihen Queyras, among others. The label's new endeavour with the TSO extends Gustavo Gimeno's existing relationship with Harmonia Mundi, for which he has previously recorded Rossini's Stabat Mater, Puccini's Messa di Gloria, and Stravinsky's The Firebird and Apollon musagète with the Luxembourg Philharmonic.
"I'm delighted to be starting this collaboration with such a prestigious orchestra as the TSO," said Christian Girardin, Director of Harmonia Mundi. "Each new signing in the world of symphonic music takes on particular importance, especially in our case. The history of the label is intertwined with that of a certain form of interpretation, based on authenticity of purpose but also on genuine artistic sincerity. As far as Gustavo Gimeno is concerned, I want to say that I admire his blend of humility and virtuosity at the baton. The upcoming projects outline an exploration of the repertoire far removed from any form of routine. In any case, that's my dearest wish: with an orchestra capable of drawing on a glorious history while constantly challenging itself, and a conductor attentive to the smallest details, I'm convinced we will do a great job! Thank you all for your confidence, and welcome to Harmonia Mundi."
Recordings have been an integral component of the TSO's artistic legacy since its first release in 1942. Of the close to 100 titles in its discography, many have been nominated for prestigious awards. Most recently, its 2018 recording of works by Vaughan Williams, under TSO Conductor Emeritus Peter Oundjian, and 2021 recording of Massenet's Thaïs, under TSO Conductor Laureate Sir Andrew Davis, both on Chandos, won JUNO Awards, with the former also receiving a GRAMMY® nomination. 
For more images, visit turangalila.tso.ca.
---
About the Toronto Symphony Orchestra
For over a century, the Toronto Symphony Orchestra (TSO) has played a fundamental role in shaping and celebrating Canadian culture. Now in our 101st year, the TSO's commitment to musical excellence and ability to spark connection remain as strong as ever. With a storied history of acclaimed concerts and recordings, Canadian and international tours, and impactful community partnerships, we are dedicated to engaging and enriching local and national communities through vibrant musical experiences. Music Director Gustavo Gimeno brings an expansive artistic vision, intellectual curiosity, and sense of adventure to programming the 93-musician Orchestra that serves Toronto—one of the world's most diverse cities. As a group of artists, teachers, and advocates who share the belief that music has the power to heal, inspire, and connect people from all walks of life, we engage audiences young and old through an array of education, community-access, and health-and-wellness initiatives. The 2023/24 season marks the 50th anniversary of the TSO-affiliated Toronto Symphony Youth Orchestra—a tuition-free training program dedicated to cultivating the next generation of Canadian artists. Join us for a concert at Roy Thomson Hall, or experience the TSO in your neighbourhood. Visit TSO.CA or Newsroom.TSO.CA.
---
The TSO acknowledges Mary Beck as the Musicians' Patron in perpetuity for her generous and longstanding support.
The TSO Season Presenting Sponsor is BMO Financial Group.
Gustavo Gimeno's appearances are generously supported by Susan Brenninkmeyer, in memory of Hans Brenninkmeyer. 
The TSO's Education and Community Engagement programs are generously supported by Francine and Bob Barrett. 
TSOUND Connections is generously supported by TD Bank Group through the TD Ready Commitment and the George C. Hunt Family Foundation.
The TSO is grateful for the support of the Toronto Symphony Foundation and all levels of government, including the Canada Council for the Arts, the Ontario Arts Council, the Toronto Arts Council, the Government of Canada, and the Government of Ontario.
Instagram: instagram.com/TorontoSymphony
Facebook: facebook.com/TorontoSymphonyOrchestra
YouTube: youtube.com/TorontoSymphony
---
Media Contact
For media requests, please contact:
Tat Read, Senior Director, Communications
Toronto Symphony Orchestra
Visit Newsroom.TSO.CA