The next generation of Canadian musical leadership
Monica Chen and Kelly Lin announced as conductors in Tapestry Opera, Pacific Opera Victoria, and the Toronto Symphony Orchestra initiative, now the world's largest conducting program for women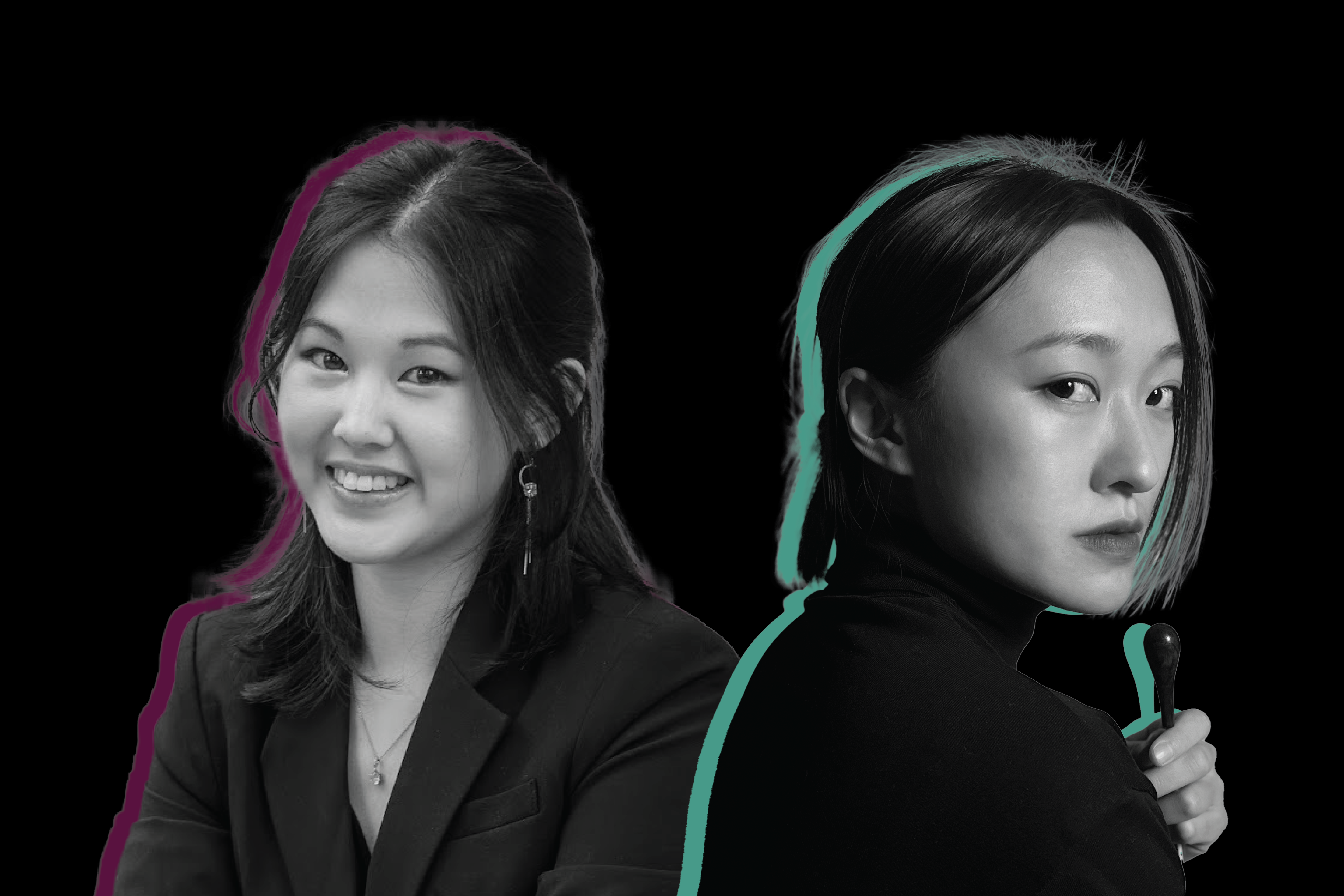 Monica Chen and Kelly Lin, both accomplished Canadian conductors with substantial achievements, will join Jennifer Tung, Juliane Gallant, Naomi Woo, and Maria Fuller in the landmark three-year program. Each conductor will benefit from learning placements and conducting opportunities with orchestras, opera companies and festivals across Canada, including mentorship and training with industry-leading conductors nationwide. 
Women in Musical Leadership is led by Canada's trailblazing producer of contemporary opera, Tapestry Opera, in partnership with Lead Partner Pacific Opera Victoria and Lead Orchestral Partner Toronto Symphony Orchestra. The three Lead Partners work in collaboration with 23 opera, music, and performing arts organizations across Canada. This pilot program was first announced in October 2020 and launched in 2021, with the support of the Azrieli Foundation.
The Women in Musical Leadership program was created to expand the musical leadership talent pool by championing and fostering female and non-binary Canadian conductors, with the shared goal of cultivating the next generation of conductors at the highest levels of musical leadership, and to address a historic gender imbalance in classical music. By activating a national coalition, the program provides the conductors with a network of experience, relationships, and mentors to develop their careers.
In May 2022, ​ Canadian women occupied less than 3% of titled conductor positions in major Canadian orchestras. In Canadian orchestras with budgets over 5 million*, there are 37 titled roles for conductors, of which only three are occupied by female conductors (8.1%). Of those three conductors, only one is Canadian (2.7%).
Chen and Lin will begin their three-year participation in the program in 2023. They join current participants Jennifer Tung, Juliane Gallant, Naomi Woo and Maria Fuller, whose experience in the program so far includes mentoring with renowned conductors Rosemary Thomson, JoAnne Falletta, Tania Miller and Karen Kamensek; and masterclasses with Toronto Symphony Orchestra's Music Director Gustavo Gimeno and Winnipeg Symphony's Daniel Raiskin; 
Tapestry Opera's Artistic Director Michael Hidetoshi Mori, and Tapestry Opera's Executive Director Jaime Martino, said in a joint statement:
"We are thrilled to welcome Monica Chen and Kelly Lin to the now six dynamic and talented conductors who represent the future of classical music in Canada. This program is an important way to make our great and geographically large country into a community who can collectively train and give vital experience to new leaders for music in Canada. We are grateful to all participating companies who are supporting these conductors' journeys. When we began designing this program, hosting six conductors was a pipe dream. At the beginning, we didn't know if other organizations would want to become partners; we didn't know if conductors would find the program or find it helpful; we didn't know if we would achieve our goal of providing a deeply meaningful and enriching experience for young conductors that would truly help advance their careers in Canada. Looking back on the last two years, and getting to add Monica and Kelly, such consummate musicians with so much to offer the sector, we can see the dream becoming a reality."
A native of Vancouver, Monica Chen is one of the conducting fellows at the Orchestre Métropolitain, assisting Yannick Nézet-Séguin since 2021. She will be the Assistant Conductor of the Winnipeg Symphony Orchestra for the 2023-2024 season and one of three finalists at Domaine Forget chosen to perform in concert with the Orchestre symphonique de Québec two years in a row. Recent conducting engagements include working with Opera Kelowna, Orchestre Symphonique de Québec and the Orchestre Métropolitain. She has participated in festivals including at the Eastman School of Music, Domaine Forget International Summer Academy, the UBC Chamber Music Festival, and the University of Oregon Conducting Institute, working closely with maestros Jonathan Girard, Neil Varon, Thomas Rösner, and Bramwell Tovey. She holds two Masters, one in Orchestral Conducting from UBC studying with Dr. Jonathan Girard and the other in violin performance from Indiana University studying with Mimi Zweig.
Kelly Lin is a Chinese-Canadian conductor who has gained recognition for her magnetic, captivating, and inspiring interpretations of a diverse range of musical genres, from classical to contemporary. As the founder and Artistic Director of Ensemble Lagom, her performances have been praised for their advocacy of under-represented voices. Kelly earned her master's degree in orchestral conducting from McGill University, where she was the recipient of the Hnatyshyn Foundation – Christa and Franz-Paul Decker Fellowship in Conducting. She has studied under renowned mentors such as Alexis Hauser and Guillaume Bourgogne. Kelly's reputation has led her to work with professional orchestras and ensembles across Canada and internationally, and she has performed in major music festivals such as Toronto Summer Music, Ottawa Chamberfest, and 21 Stops Music Festival. Kelly's recent conducting engagements include concerts with Ensemble Obiora, Ensemble Lagom, Hatch Ensemble, McGill Symphony Orchestra, and McGill Contemporary Music Ensemble.
The Women in Musical Leadership's current partners include Calgary Philharmonic Orchestra, Continuum Contemporary Music, Hamilton Philharmonic Orchestra, Kamloops Symphony, Kingston Symphony, Manitoba Opera, Opera McGill, the National Arts Centre Orchestra, New Music Concerts, Okanagan Symphony Orchestra, Opera Kelowna, Pacific Opera Victoria, Regina Symphony, Shaw Festival, Symphony Nova Scotia, Toronto Summer Music, Toronto Symphony Orchestra, Vancouver Opera, Victoria Symphony, and Winnipeg Symphony Orchestra. 
"We thank our partners for their enthusiasm and dedication to our joint goal of changing the face of musical leadership in Canada and for their support as we celebrate the achievements of these accomplished women as they take the next step in their careers," conclude Mori and Martino. 
*As deemed by Orchestras Canada. Titled roles include Music Director, Assistant Conductor, Principal Guest Conductor, Resident Conductor, Artist Partner (OM), Artist-In-Residence and Community Ambassador, Principal Pops Conductor, Principal Education Conductor & Community Ambassador.
---
ABOUT TAPESTRY OPERA
Tapestry Opera is an award-winning Toronto-based company dedicated to creating, developing and performing original Canadian opera. Tapestry is passionate about uniquely Canadian stories, told in innovative settings, unforgettably interpreted by world-class artists. Tapestry supports emerging artists, develops new audiences and brings Canadian opera to the world stage. Founded in 1979, Tapestry is the voice of original contemporary Canadian opera. 
ABOUT PACIFIC OPERA VICTORIA
Pacific Opera Victoria is one of the most influential professional opera companies in Canada. Its inspired repertoire comprises original productions of classic favourites and lesser known works, as well as new commissions, co-productions, and collaborations with other companies and arts organizations across the country. From its home in the Baumann Centre, Pacific Opera Victoria creates significant career opportunities for creative and performing artists and curates opera in surprising ways – enticing newcomers and captivating loyal opera-goers.
ABOUT TORONTO SYMPHONY ORCHESTRA
One of Canada's most respected arts organizations, the Toronto Symphony Orchestra (TSO) has played a vital role in the city's dynamic cultural life for 98 years. Music Director Gustavo Gimeno brings an expansive artistic vision, intellectual curiosity, and sense of adventure to programming the 92-musician Orchestra. The TSO is committed to serving local and national communities through vibrant performances, extensive educational activities, and impactful community relationships. It has a notable recording and broadcast history and has been celebrated internationally during its many tours. Toronto's iconic Roy Thomson Hall is the TSO's home, drawing patrons from around the world. The Toronto Symphony Orchestra's name remains synonymous with musical versatility and growth, and artistic distinction.
ABOUT WOMEN IN MUSICAL LEADERSHIP
Lead Partners:
Tapestry Opera
Pacific Opera Victoria
Lead Orchestral Partner:
Toronto Symphony Orchestra
Partner Organizations to date*:
Association for Opera in Canada
Calgary Philharmonic Orchestra
Continuum Contemporary Music
Hamilton Philharmonic Orchestra
Kamloops Symphony
Kingston Symphony
Manitoba Opera
National Arts Centre Orchestra
New Music Concerts
Okanagan Symphony
Opera Kelowna
Opera McGill
Regina Symphony Orchestra
Shaw Festival
Symphony Nova Scotia
Toronto Summer Music
Vancouver Opera
Victoria Symphony
Winnipeg Symphony Orchestra
Career Mentors:
JoAnn Falletta
Rosemary Thomson
Karen Kamensek
Sarah Ioannides
Tania Miller
Conducting Advisors:
JoAnn Falletta
Gustavo Gimeno
Sandra Horst
Sarah Ioannides
Jeri Lynne Johnson
Gemma New
Jordan de Souza
Rosemary Thomson
For media inquiries, please contact: 
Clay Jones, [email protected] 
Marketing and Communications Manager, Tapestry Opera