Promoting Mental Health and Community Connection: TD Bank Group and the TSO Celebrate 3 Years of Bringing Music to Seniors through TSOUND Connections
Young Musicians Join Members of Toronto Symphony Orchestra to Bring Music, Joy to Isolated Seniors
To celebrate National Mental Health Week (May 1—4, 2023), the Toronto Symphony Orchestra (TSO) is proud to highlight the success of TSOUND Connections, a groundbreaking music program that provides joy and comfort to seniors throughout Ontario. This program, made possible with support from TD Bank Group (TD), has touched the lives of more than 1,500 seniors since its launch in 2020, offering enriching musical experiences that promote positive mental health and wellbeing amongst one of Toronto's most vulnerable and isolated groups.
"Our organization exists to bring music and connection, and we are immensely grateful to have TD as a partner in this shared vision. Their unwavering commitment to supporting music and the arts has been instrumental in helping us expand our reach and impact. We are honoured to work alongside such a passionate and visionary partner and to bring the transformative power of music to people everywhere," said Mark Williams, Toronto Symphony Orchestra CEO.
"At TD, we believe that music has the power to connect us by transcending language, gender, age, ethnicity, and religion," said Robyn Small, Senior Manager, Philanthropy, TD Bank Group. "Through the TD Ready Commitment, our corporate citizenship platform, we're so proud to support the Toronto Symphony Orchestra's TSOUND Connections program, a trailblazing example of how music can help break down barriers and provide meaningful, inclusive experiences to seniors who may be socially or physically isolated."
Now in its third year, TSOUND Connections has become an essential pillar of the TSO's community offerings, providing free programming to long-term care, retirement, and assisted-living homes, as well as organizations that offer virtual adult day programs. Developed and led by the TSO's Education and Community Engagement team, the initiative provides robust training for participating TSO and Toronto Symphony Youth Orchestra (TSYO) musicians to prepare them to interact with seniors in care environments. Delivered by the Room 217 Foundation, the music care training focuses on the context and impact of music care within the healthcare system, supporting and engaging with seniors using music, and understanding the benefits of integrating music into larger healthcare practices.
Connecting generations through music: Young musicians reflect, engage, and find purpose in TSOUND Connections
Eleven TSYO members were excited to volunteer for virtual sessions once again this season, bringing joy and comfort to seniors through their music. The impact of TSOUND Connections is evident in the powerful and transformative experiences shared by the TSYO musicians themselves:
Sarah Darragh, clarinet, age 19: "TSOUND Connections has allowed me to reflect and re-evaluate the motive behind why I want to pursue music as a career—I can positively influence the lives of others by doing something I love; playing the clarinet." 
Irene Huang, piano, age 16: "I come out of every meeting thinking, 'Ahh, that's what music is truly about!' These experiences inspire me to practice harder and work toward a beautiful cause."
Cynthia Ding, violin, age 17: "I believe a major part of being a musician is sharing our music with others and making a positive impact on our community. TSOUND Connections creates meaningful memories for both the performer and the listener. It allows young musicians to develop an appreciation for the social connections made possible by music."
Evita Lalonde, double bass, age 16: "TSOUND Connections reminds me why I play music. It is more than just performing for people and hoping that they enjoy the music. It also has the purpose of evoking emotions which cannot be described through spoken word."
Joelle Crigger, violin, age 19: "The program has shown me the powerful and transformative impact music can have on seniors in our community. My favourite part is seeing residents sing and dance along to their favourite songs."
TSOUND Connections: Music and Memories for Seniors in Care
Photo caption: Angelique Toews, TSO Musician, delights a senior with her violin during a live virtual 1:1 performance. As a TSOUND Connections participant, Toews shares "Music has a way of transporting people to a different time and place, and I can see that during the TSOUND Connections calls when they remember an old favourite song or piece. I find TSOUND Connections very personally rewarding. I love to bring music to people who can't get out to concerts."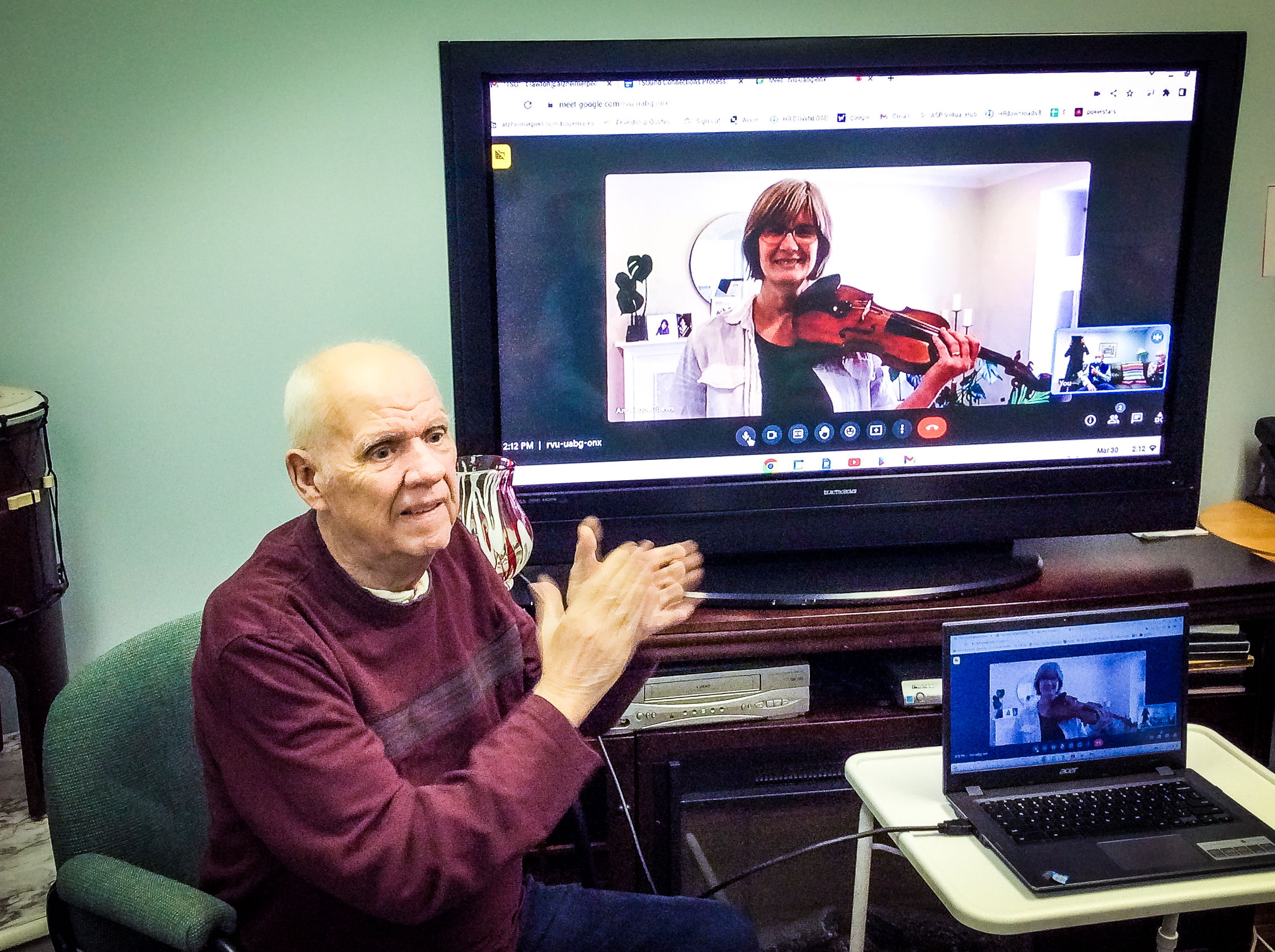 TSOUND Connections was created as a response to the COVID-19 pandemic and its effects on social isolation among seniors in care. The program partners with organizations such as the Alzheimer Society of Peel (ASP), Baycrest@Home, and Room 217, to provide life-enriching performances to seniors living in long-term care homes. TSO and TSYO musicians connect with seniors virtually three times a week for 30-minute sessions of music and conversation, using music as a means to improve well-being and reduce feelings of social isolation. As one representative from ASP put it,
"We are deeply grateful for the TSO's support. Thanks to TSOUND Connections, our members can enjoy a live Virtual TSO session tailored to their needs, with the soloist engaging them with various instruments in a peaceful and relaxing environment. When a familiar tune is played, such as The Sound of Music, Somewhere Over the Rainbow, or Moon River, our members can't help but sing along and tap their feet, creating an atmosphere of pure joy. The bond between the performers and our members is heartwarming, and the feedback we receive is overwhelmingly positive. The experience provides a safe and welcoming space for our members to share their life stories and reminisce, which is invaluable. We want to express our sincere thanks to the TSO for their continued dedication and kindness in providing this wonderful wellness experience for our members."
TSOUND Connections is generously funded by TD Bank Group through the TD Ready Commitment, the Bank's corporate citizenship platform. Since 2020, they have been a champion of TSOUND Connections which is designed to help people who are socially and often physically isolated develop connections to local community members, fellow participants, and their own caregivers through music.
---
About the Toronto Symphony Youth Orchestra
For more than 45 seasons, the Toronto Symphony Youth Orchestra (TSYO) has been dedicated to providing a high-level orchestral experience for talented young musicians aged 22 and under. The tuition-free TSYO program delivers a unique, powerful, and life-enriching opportunity that encourages significant achievement, regardless of the career path participants choose to pursue. The TSYO has a close affiliation with the Toronto Symphony Orchestra (TSO): TSO musicians serve as coaches through the season, TSO guest artists lead masterclasses for TSYO members, and the TSYO performs annually with the TSO in a side-by-side concert at Roy Thomson Hall.
---
The TSO is grateful to our donor community, including the George C. Hunt Family Foundation, for making the TSOUND Connections program possible.
The TSO acknowledges Mary Beck as the Musicians' Patron in perpetuity for her generous and longstanding support.
The TSO's Education and Community Engagement programs are generously supported by Francine and Bob Barrett.
The TSO Season Presenting Sponsor is BMO Financial Group.
The TSYO Conductor is generously supported by the Toronto Symphony Volunteer Committee.
The TSO is grateful for the support of the Toronto Symphony Foundation and all levels of government, including the Canada Council for the Arts, the Ontario Arts Council, the Toronto Arts Council, and the Government of Canada.