It's Giving Fabulosity & Virtuosity—First-Ever Toronto Symphony Orchestra Drag Concert Celebrates Pride
Thorgy Thor Headlines Can't-Miss Symphonic Spectacular at Roy Thomson Hall, Official Pride Toronto Major Cultural Event
This June, the Toronto Symphony Orchestra (TSO) proudly teams up with Pride Toronto to celebrate and embrace the vibrant, diverse, and audacious spirit of our city's 2SLGBTQ+ community. The TSO's first-ever drag headliner, and "Queen of Classical Music", Thorgy Thor, will perform live with the Orchestra at Roy Thomson Hall for a one-night-only, trailblazing concert. 
"We are not only the Toronto Symphony Orchestra, but we are also proudly Toronto's symphony orchestra, and what's important to the city and its people is important to us," said Mark Williams, CEO of the TSO. "Pride Toronto's mission—to be known, heard, understood, accepted, respected, and celebrated—resonates deeply with us. At the TSO, we are unified in our belief in the power of music to connect, heal, and transcend boundaries. This concert is more than a celebration—it's about harnessing the transformative power of music to uplift, unify, and inspire. And of course, it's going to be incredibly fun."
You'll Laugh, You'll Cry & Your Heart Will Throb
On Sunday, June 11, 2023, at 7:30pm, the TSO welcomes Thorgy Thor, the "Queen of Classical Music" from RuPaul's Drag Race, to Roy Thomson Hall. In this first-ever TSO drag concert, Thorgy Thor and the Thorchestra, Thorgy Thor will showcase her virtuosity on the violin alongside the TSO, under the baton of Daniel Bartholomew-Poyser, the TSO's Barrett Principal Education Conductor & Community Ambassador.
"For me, Pride is unthinkable without music," said Bartholomew-Poyser. "Our goal is to create a show that connects with the audience on multiple levels, offering them experiences that are fresh, unexpected, and deeply personal. We are incredibly excited to bring Thorgy's unique creativity and performance to our stage."
Thorgy's performance will be a riveting blend of music, comedy, and theatrical spectacle, featuring a cast of talented artists, including Adam "Miss Moço" Moco, Matthew "Snoopy" Cuff, and soprano Midori Marsh. This Special Performance will be a thrilling night of laughter, dance, music, and surprises.
Event Details: Thorgy Thor and the Thorchestra
Sunday, June 11, 2023, at 7:30pm, Roy Thomson Hall
Tickets from $73
For more content on TSO and Pride, please see TSO.CA's "Pride & Joy", a conversation with the TSO's Mark Williams and Daniel Bartholomew-Poyser about Thorgy Thor's uniqueness as a musician and performer, the joy of creating new 2SLGBTQ+ safe spaces, and the power and universality of drag.
Patio, Pop & Pride Sextet: TSO Music Salon & Party
On Sunday, June 4t, 2023, at 2:00pm, the TSO will kick off its Pride celebrations with a musical salon and party. Hosted by the Impresarios Club and Daniel Bartholomew-Poyser, the event features a pre-party musical program in the Roy Thomson Hall lobby atrium. A sextet of TSO musicians will perform a vibrant mix of classical and pop works, followed by a lively social reception on the patio with more music provided by DJ Fawn Big Canoe.
Event Details: Impresarios Club Pride Salon
Sunday, June 4, 2023, at 2:00pm (to 5:00pm), Roy Thomson Hall
Tickets $75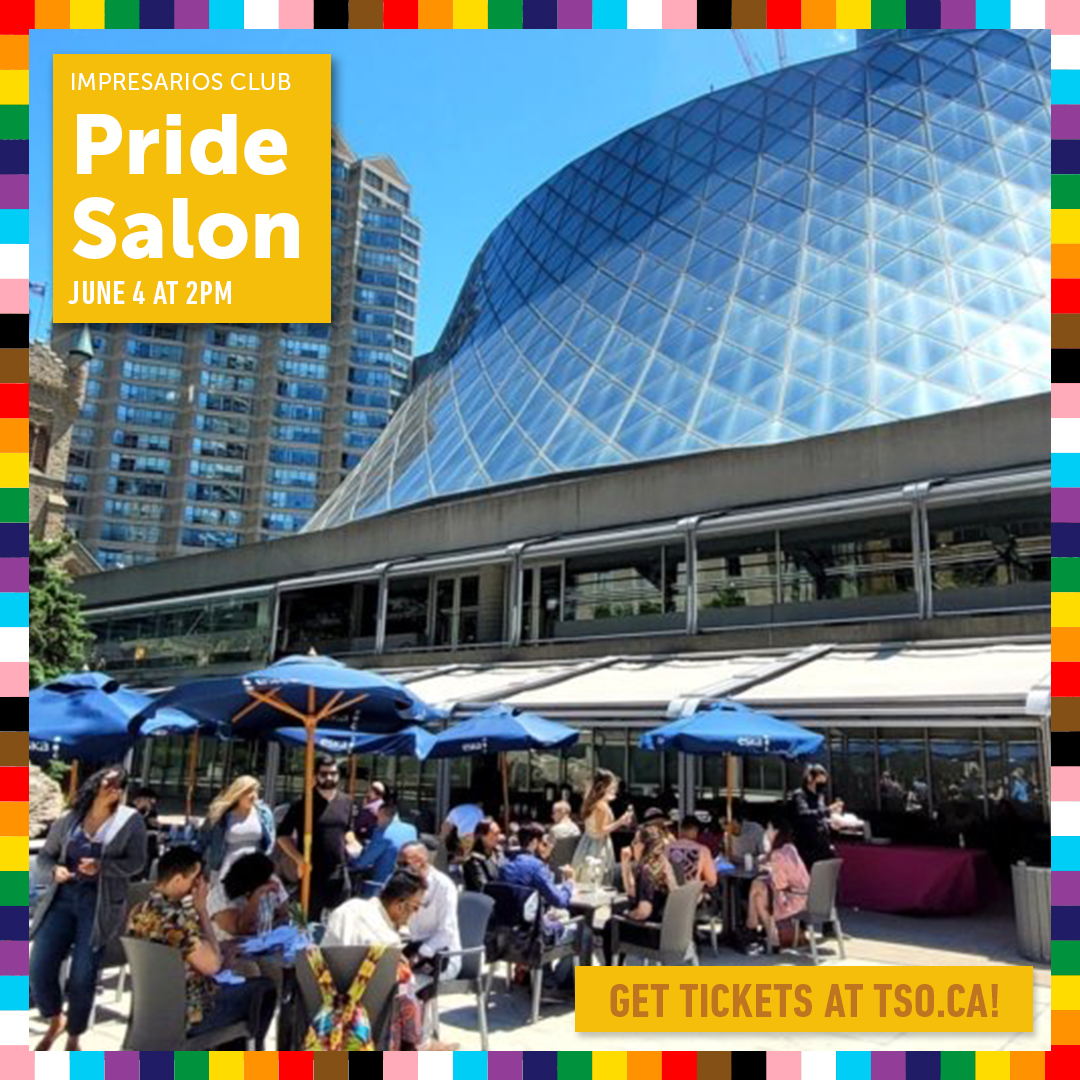 About the Toronto Symphony Orchestra
For a century, the Toronto Symphony Orchestra (TSO) has played a fundamental role in shaping and celebrating Canadian culture. Now in our 100th year, the TSO's commitment to musical excellence and ability to spark connection remain as strong as ever. With a storied history of acclaimed concerts and recordings, Canadian and international tours, and impactful community partnerships, we are dedicated to engaging and enriching local and national communities through vibrant musical experiences. Music Director Gustavo Gimeno brings an expansive artistic vision, intellectual curiosity, and sense of adventure to programming the 93-musician Orchestra that serves Toronto—one of the world's most diverse cities. As a group of artists, teachers, and advocates who share the belief that music has the power to heal, inspire, and connect people from all walks of life, we engage audiences young and old through an array of community-access, health-and-wellness, and education initiatives, including the TSO-affiliated Toronto Symphony Youth Orchestra—a tuition-free training program dedicated to cultivating the next generation of Canadian artists. Join us for a concert at Roy Thomson Hall, or experience the TSO in your neighbourhood. Visit TSO.CA or newsroom.tso.ca.
---
The TSO relies on the generosity of thousands of donors and partners who provide a critical base of funding that makes possible all of the TSO's music-making on stage and in the community. 
The TSO acknowledges Mary Beck as the Musicians' Patron in perpetuity for her generous and longstanding support.
The TSO Season Presenting Sponsor is BMO Financial Group.
The TSO is grateful for the support of the Toronto Symphony Foundation and all levels of government, including the Canada Council for the Arts, the Ontario Arts Council, the Toronto Arts Council, the Government of Canada, and the Government of Ontario.