Beck Family's Extraordinary Generosity to Toronto Symphony Orchestra Surpasses $50 Million
Largest gift ever made to the organization announced at AGM along with Centennial-year surplus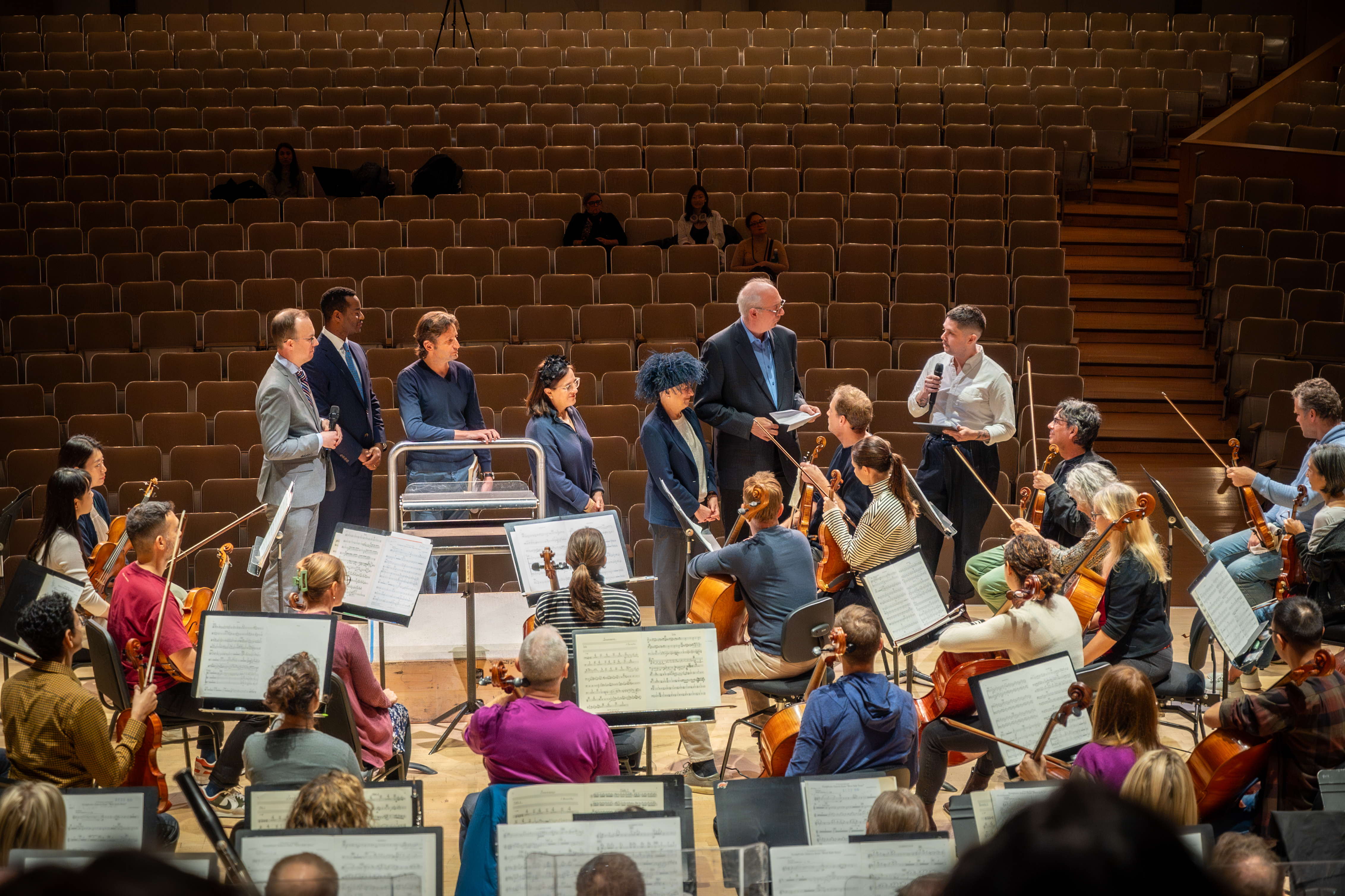 Toronto, October 16, 2023 — At this afternoon's Annual General Meeting of the Toronto Symphony Orchestra (TSO) CEO Mark Williams announced to TSO supporters, musicians, and staff that, in the 2023 fiscal year, the TSO received another historic gift from the Estate of H. Thomas and Mary Beck of $14.7 million. This brought the estate's total giving to approximately $30 million, and the Beck Family's giving in support of the TSO to more than $50 million. As the largest in TSO history, this transformative gift contributed in part to the organization's 2023 fiscal year surplus, and is a testament to the Beck Family's more than 60-year relationship with the orchestra and their abiding belief in its importance and promise.
The funds from Tom and Mary Beck's estate were strategically allocated to sustain the orchestra's operations in recent years, and a significant amount has been invested by the Toronto Symphony Foundation to bolster our artistry, touring, audience development, and education and community-engagement initiatives in future years. In recognition of the Beck Family's extraordinary generosity, two new endowments have been established to support the TSO: the Cathy and Liddy Beck Principal Oboe Chair, and the Beck Family Chief Executive Officer.
"The Beck Family's long-standing commitment to this city has been exemplified by their unwavering support of the Toronto Symphony Orchestra and our mission to serve this community with extraordinary and meaningful musical experiences," said Mark Williams. "Their contributions to the TSO significantly amplify our reach and ability to bring music to Toronto's diverse communities and to those who need it the most. I feel a deep sense of gratitude for the support of the Beck Family, whose exceptional generosity has now exceeded $50 million in donations in support of the TSO — the largest cumulative gift we have ever been given. Personally, I am honoured that, as a part of this legacy, I will be the inaugural Beck Family Chief Executive Officer of the TSO. The Beck Family has been incredibly generous in every conceivable way — our dearest friend and truest ally — and I deeply value the confidence that they have placed in the TSO to be a home for every Torontonian, for generations to come."
"I know I speak for every musician in the orchestra when I say that the Beck Family is our family — they are our greatest champions and also very dear friends," said Sarah Jeffrey, the inaugural holder of the Cathy and Liddy Beck Principal Oboe Chair. "Their enduring support has helped to strengthen us, both as an ensemble and as individuals, and their deep affection for classical music and the art of performance has always been felt and appreciated by all of us on stage. I am sincerely grateful to Cathy and Liddy, and I am incredibly proud to now occupy an orchestra chair named in their honour."
A Legacy of Extraordinary Generosity
The Beck Family's extensive relationship with the orchestra dates back to the 1950s, when newlyweds Tom and Mary Beck, who met in Toronto shortly after they both immigrated from Europe, began attending TSO concerts at Massey Hall, eventually becoming subscribers and donors. Tom served as a TSO Board member for 22 years, and was Chair in the early '80s. Mary became well known to the TSO's musicians; she valued them as individuals and hosted many of them at the Beck Family's home over the years. In 2008, Tom and Mary endowed the Tom Beck Concertmaster Chair, and, in 2015, the orchestra showed their appreciation by making Tom one of their first Honorary Musicians. Tom passed away in 2016, followed by Mary in 2018, and, the next year, a $10-million gift to the TSO from their estate was announced. At that time, it was the single largest contribution ever made to the organization. In 2020, the TSO named Mary Beck the Musicians' Patron in perpetuity in recognition of her close ties and generosity to the members of the orchestra.
Tom and Mary's children, Anthony, Catherine, and Liddy, now carry the torch of their family's support. In 2016, like her father before her, Catherine joined the TSO Board of Directors as Chair and continues to serve in the role. She and her husband, Dr. Laurence Rubin, were also named Honorary Musicians by the musicians of the orchestra.
"On behalf of my brother, my sister, and myself, I would like to express how deeply proud we are that the TSO's Principal Oboe Chair and CEO position will be endowed in our family's name, in addition to the Tom Beck Concertmaster Chair," said Catherine Beck. "It is a great privilege to continue my parents' legacy of support. We strongly believe, as they did, that a fantastic city like Toronto deserves a fantastic orchestra — and the TSO is precisely that. Over the years, through its superb artistry, inspiring resilience, and profound impact, both inside and outside the concert hall, it has proven itself to be a strong and vital cultural leader worthy of recognition. We hope that, in playing our part, we may inspire others to similarly invest in the future of the institution that means so much to us and to this community."
Centennial Successes
Vital donations from the Beck Family, and thousands of other supporters, contributed to the TSO recording another surplus of revenues over expenses — of approximately $30K — at the conclusion of the 2023 fiscal year (June 2023). This positive financial result complements the many artistic and organizational successes realized throughout the TSO's landmark 100th-anniversary season.
"Leading the Toronto Symphony Orchestra during its Centennial was, without question, one of the most magnificent experiences of my career to date," said TSO Music Director Gustavo Gimeno. "The 2022/23 season embodied the very philosophy that guides my programming — namely, that something wondrous occurs when the well-established and the thrillingly novel come together. Indeed, the most notable moments of our year-long celebration paid tribute to our storied past while simultaneously breaking new ground."
Notable Milestones of the 2022/23 Season
The season began with the TSO's inaugural Open House & Free Concert — welcoming close to 4,000 Torontonians to Roy Thomson Hall — and concluded with a free Canada Day celebration concert at Harbourfront Centre.
The Celebrate 100 Gala featured performances by legendary cellist Yo-Yo Ma and award-winning Tobique First Nation artist Jeremy Dutcher, and raised funds for vital initiatives.
The 2022/23 TSO Spotlight Artists, cellist Jean-Guihen Queyras and pianist Yuja Wang, wowed Toronto audiences with virtuosic performances in multiple programs throughout the year.
Art of Healing, a new partnership with the Centre for Addiction and Mental Health, supported First Nations, Inuit, and Métis patients through musical storytelling and composition.
The Board of Directors extended Gustavo Gimeno's contract for another five years, which will see him remain on the TSO podium through 2030.
The orchestra's tremendous first tour under the leadership of Gustavo Gimeno took them to Ottawa's National Arts Centre, New York's Carnegie Hall, and Chicago's Symphony Center. Thereafter the TSO returned to Massey Hall for the 100-year anniversary performance in its original home. 
Gustavo Gimeno conducted the TSO's first-ever Relaxed Performance of a Masterworks program for members of the neurodiverse and disabled communities.
For a third year, the TSOUND Connections program provided engaging online performances to seniors in long-term-care, retirement residences, and assisted-living homes, reducing the effects of social isolation.
The orchestra reached new audiences through its Brampton début with the all-ages concert Reggae Roots. Likewise,Thorgy Thor and the Thorchestra, an official Pride Toronto event, featured the TSO's first drag headliner from RuPaul's Drag Race. 
Beck Family CEO Mark Williams and Gustavo Gimeno were featured in a stylish campaign from international menswear brand Atelier Munro that explored the intersection of music and fashion. The TSO also launched Be Major — a celebratory small-batch ice cream developed in a first-of-its-kind collaboration with Toronto's Ruru Baked.
The orchestra and Gustavo Gimeno made their first recording together, of Messiaen's Turangalîla-Symphonie, paying tribute to the TSO's iconic 1968 recording of the same work under then–Music Director Seiji Ozawa.
Gustavo Gimeno mentored three TSO NextGen Composers whose pieces premièred in the final concert of the season. He also acted as Conducting Advisor for Women in Musical Leadership, a fellowship in partnership with Tapestry Opera supporting women and non-binary conductors and music directors.
The TSO Chamber Soloists pre-concert performances, curated by Concertmaster Jonathan Crow, showcased the talents of orchestra members and special guests.
In-person School Concerts resumed after a two-and-a-half-year pause, and Open Rehearsals for high-school music classes were offered both live and virtually.
The Toronto Symphony Youth Orchestra's 49th season was filled with stellar performances and other enriching musical and community-building activities.
"All of these incredible milestones represent our commitment to our community, and we were only able to accomplish them because our supporters chose to invest in us," added Mark Williams. "It's not guaranteed that any organization will remain in the black year after year, so we are immensely appreciative to all members of the TSO family for continuing to invest in the future of this great orchestra. Our Year 101 performances have been positively electric, and it's you who keep that indescribable energy flowing, through the concert hall, the city, and beyond."
Read the TSO's 2022/23 Annual Letter to the Community.
Download Financial Statements.
About the Toronto Symphony Orchestra
For over a century, the Toronto Symphony Orchestra (TSO) has played a fundamental role in shaping and celebrating Canadian culture. Now in our 101st year, the TSO's commitment to musical excellence and ability to spark connection remain as strong as ever. With a storied history of acclaimed concerts and recordings, Canadian and international tours, and impactful community partnerships, we are dedicated to engaging and enriching local and national communities through vibrant musical experiences. Music Director Gustavo Gimeno brings an expansive artistic vision, intellectual curiosity, and sense of adventure to programming the 93-musician orchestra that serves Toronto — one of the world's most diverse cities. As a group of artists, teachers, and advocates who share the belief that music has the power to heal, inspire, and connect people from all walks of life, we engage audiences young and old through an array of education, community-access, and health-and-wellness initiatives. The 2023/24 season marks the 50th anniversary of the TSO-affiliated Toronto Symphony Youth Orchestra — a tuition-free training program dedicated to cultivating the next generation of Canadian artists. Join us for a concert at Roy Thomson Hall, or experience the TSO in your neighbourhood. Visit TSO.CA or Newsroom.TSO.CA.
---
The TSO acknowledges Mary Beck as the Musicians' Patron in perpetuity for her generous and longstanding support.
The TSO Season Presenting Sponsor is BMO Financial Group.
Gustavo Gimeno's appearances are generously supported by Susan Brenninkmeyer, in memory of Hans Brenninkmeyer. 
The TSO's Education and Community Engagement programs are generously supported by Francine and Bob Barrett. 
TSOUND Connections is generously supported by TD Bank Group through the TD Ready Commitment and the George C. Hunt Family Foundation.
The TSO is grateful for the support of the Toronto Symphony Foundation and all levels of government, including the Canada Council for the Arts, the Ontario Arts Council, the Toronto Arts Council, the Government of Canada, and the Government of Ontario.